! last updated July 15, 2005>

This is Domain Country -
(English version) Download here

French and Swedish

versions are also available.
---
Domain Country is a PC game that will help you learn all 243 of the country code top level domains (ccTLDs) as promulgated by ICANN. If that's too much for you, then try learning them one at a time by using my stand-alone ccTLD.exe program. You could keep this 44KB DOS utility on hand for your country code review in the future - just save it in your Windows system directory, for example C:\WINNT\SYSTEM32\
or C:\WINDOWS\COMMAND\ on other systems. Then it's always available from the command prompt.

The inspiration for Domain Country was derived from Rogue originally written by Kenneth C.R.C. Arnold, Michael C. Toy and Glenn Wichman. It shipped with version 4.2 of the BSD Unix operating system starting in 1980. This classic game has really stood the test of time and has been ported to Dreamcast, Palm Pilot, Java, Flash, and this Linux update called Krogue. Furthermore, it has spawned a whole host of Rogue-like games. So many that you might need live journal to keep up. The C source code for the original Rogue is still available too.

<! http://tvilsom.org/roguelike/1.html> What made Rogue unique for its time was that it generated its own adventure; it wasn't the same series of puzzles every time. Your goal was to get the @ symbol to find the Amulet of Yendor in the Dungeons of Doom while fighting letters of the alphabet which represent monsters. The PC version of the game used a happy face instead of the @ symbol.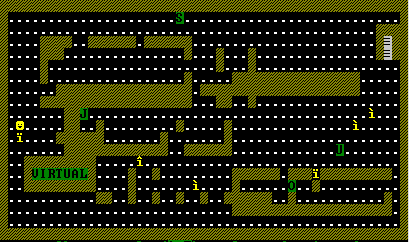 In Domain Country, the letters represent people from various countries. And you control a happy face inside the World Internet Building. There's no telling how many floors there are. The switches, bridges, and routers for the whole internet come together in this building - so maybe that puts it in San Jose, California! :) Unfortunately some circuits have tripped and now 25 of the internet domain codes are disconnected. Since this has never happened before, no one has bothered to memorize the domain country codes.

Your task is to learn the names of the non-functioning domains and then fix them. As you encounter a new citizen, he may or may not know the domain code for his country. And he may or may not talk to you. There are only 25 domain codes to learn in each game, one for each letter of the alphabet - except X. Each game uses a different 25, so the game has replayability. In this respect, Domain Country is just like Rogue.
---
Although it seemed like ICANN would be our cyber government back in 2000, now it appears to be the U.S. government. In spite of this hegemony, the root zone for the ENTIRE INTERNET is composed of 243 ccTLDs, along with the original set of 9 generic top-level domains (.org, .net, .com, .mil, .edu, .gov, .int, .nato, and the legacy .arpa), and the newest seven domains (.biz, .info, .news, .pro, .aero, .museum, and .coop) which were authorized on November 17, 2000 at the Marina Del Ray meeting. Older ICANN meetings are archived by Harvard. The next meeting will be held March 27-31 2006 in Wellington, New Zealand which is domain code .nz

Let's look at the impact of just one domain:
April 11, 2000 - Tuvalu, a tiny South Pacific nation measuring 26 square kilometers, the 4th smallest country in the world, sold the use of its .tv domain name for $50 million over the next dozen years to Idealab! This deal more than triples Tuvalu's national budget! The per-capita revenue of the 10,600 residents is on its way to becoming one of the highest on the planet, up from an average of $400.
July 24, 2000 - Over 150 broadcasters including broadcasters affiliated with the nation's major networks such as ABC, NBC, FOX, Paramount, and Warner Brothers have now registered .tv domain names.
September 5, 2000 - Tuvalu is added to the United Nations.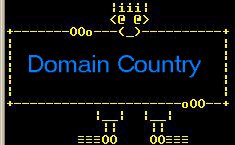 So there has been a lot of speculation on the future of top level domains. For instance, something like .SHOP could be shortened to .SH, the code for St.Helena Island; and maybe .AC (the code for Ascension Island) could be used by academic institutions, but this is very Anglo-centric, isn't it? The code for Laos is .LA and its use could provide extra income for Laos (the coutry) while internet users might think they were dealing with either Los Angeles or the state of Lousiana. This business model would really help boost the economies of some smaller countries. Some musicians have tapped into the .MU domain, which is Mauritius. And radio stations can tap into the .AM and .FM domains which represent Armenia and Micronesia.
---
On March 5th, 2001 a company called New.net went so far as to create 20 top level domains without ICANN approval, citing that the governmental entity is too slow in processing requests. In the process, you'll get foistware that hooks the Winsock2 DLL which breaks your internet access if you delete the DLL. But in any case, the twenty domains on this new SuperRoot Server are as follows:
.chat .club .family .free .game
.gmbh .hola .inc .kids .law
.ltd .med .mp3 .shop .soc
.sport .tech .travel .video .xxx
And in Germany, Beat-nic.de has come up with 20 of their own:
.auto .bahn .buch .cube .doc .edv .inmode .intern
.iss .kid .lab .log .mode .musik .nat .pharma
.gbr (gesellschaft begerlichen rechts ... a system of business where your private property is the collateral)
.immo (immobilien ... buildings, apartments)
.jur (jura ... legal stuff, lawyers)
.oeko (ecologie ... ecology)
The last three months of 2001 gave rise to new web sites in the .biz, .info and .name domains; Decryption.info was the first one I ever saw. In early 2002, we saw the first .name domains go live.
New top level domains help thwart cybersquatters and reduce the dominance of .com, thus promoting competition. The cool thing about the internet is how it can restore democracy. You can help it stay that way by reading The Hacktivist. You could also join the Electronic Freedom Foundation or People For Internet Responsibility. In addition, the Open Root Server Confederation has mailing lists that will help keep you informed.
---
Features of Domain Country:
Quiz Questions in multiple choice and fill-in-the-blank format; reinforces learning the domain country codes.
A typical game lasts 20 minutes
A sign guy who changes
hat, hair, pants, and feet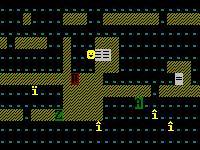 Random mazes with escalators that take you higher up the World Internet Building and Circuit breakers to restore lighting so you won't have to always burn your candles
An ASCII world map showing locations of countries.
A different 25 countries each game.
Randomized Speech Patterns
(sometimes funny, sometimes helpful, sometimes technical). Try other language versions to learn their computer words!
Download Domain Country
executable for PC (120KB)
Also available on
or Download zip file for PC (58KB)
To make the game more enjoyable, use full screen mode. From a Windows session, press ALT+ENTER to maximize the screen. Or if you want to make it a permanent feature, right-click on the mouse, select properties, and then at the Screen tab, set Usage to Full Screen.
---
Cliquez ici pour la version francais
Klicka här för svenska version
Furthermore, Domain Country is advertised in German, Spanish, Russian, Japanese, and Italian. Others have found Domain Country listed on the world wide web at the following locations:
<! http://www.fathead.net/search>